BISCUITS AND CANTUCCI DOLCE TOSCANA
Einkorn spelt flour, chocolate and almonds: two recipes that contain the Tuscan taste for the pleasure of offering your guests a moment of tradition.
SPELT BISCUITS WITH CHOCOLATE CHIPS - Spelt and cocoa biscuit. A real goodness for the sweet tooth. Biscuits made of spelt, cocoa, cane sugar and extra virgin olive oil
CANTUCCI WITH SPELT AND ALMONDS – Delicious traditional Tuscan and artisan biscuits to be enjoyed because perfect for every occasion, from breakfast to snacks, they fill any break with taste.
Whole spelt and almond flour. Ingredients: spelt whole flour 33%, sugar, almonds 20%, eggs, ExtraVirgin Olive Oil.
NUTRITION FACTS

Average nutritional values for 100 g

Energy
2115 kJ
504 kcal
Fat
of which saturates
21 g
4,5 g
Carbohydrate
of which sugars
63 g
34 g
Fibre
5,7 g
Protein
13 g
Salt
0,14 g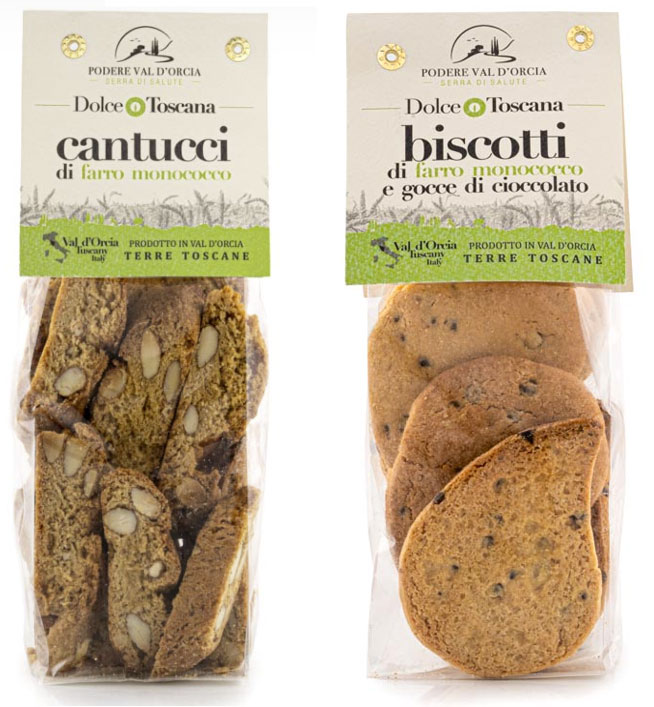 Our organic spelled biscuits are made with our organic spelled, perfect for breakfast or snack, they enrich every break with flavor.
Made using only organic einkorn spelled, they are perfect to enjoy at breakfast but also as an accompaniment to a good afternoon tea.
Simple and light, they are obtained with few ingredients to maximize the flavor and lightness of einkorn spelled, the perfect ally for a healthy and balanced diet.